Subscribe to my email updates
"My Savior, My Lord, My King" ORDER TODAY!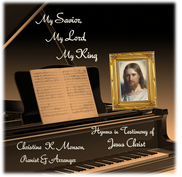 Help us make this good music great! 
  Click on Store button above
                    to Order! 
Order today your copy of "My Savior, My Lord, My King," a CD of piano hymns in testimony of Jesus Christ, released December 13th. 2014--only $13.00, including shipping!  Look soon for the sheet music, available in PDF or book form.  Subscribe to my email newsletter to find out when the sheet music for this CD, and many other songs, will be available!  Click on the Store button above to order!

Donate today to help make this music powerful!
Click here for the "Digital Tip Jar" link (or on the Piggy Bank icon above) to help us in our efforts to share this music more widely and powerfully!  Rewards include CDs, concerts,  sheet music, and special songs just for you on upcoming CDs.
New: Glenn Rawson Stories & Sheet Music PDFs
Please check out my new sections, Glenn Rawson Stories and Sheet Music PDFs under Sacred Music. 
Sheet music is finally becoming available!
I LOVE sharing this music with you! 
PLEASE READ to see what you can do for me! 
My goal is to give you something that you can use, not something that will clutter up your files because it doesn't suit the abilities or circumstances of your performer(s).  If what you get doesn't work for your circumstances, please contact me and we will work together to modify the key, the difficulty of the piano part, or the treble/bass configuration so it is something you can use.  
Currently I have decided that I will offer my music, both sheet music PDFs and mp3 downloads, for free.  There are many others who do sell their music, but for me, the time, energy, and emotional mindspace involved in selling it does not make it worth what little I might make at that route.  Please use this music to the fullest.  That's the greatest thing I want.  And a few miracles to help my family that come when we put our trust in Him and let go of our agendas. 
I know there are many out there who don't like to take anything for free.  If you'd like, you can donate through the GoFundMe link here gofund.me/cjvzvk or on my homepage. 
I would love a continuing relationship with those use this music, in a way that we can both benefit from. I may update this song as it continues to be performed and used--and as hard as I have tried to edit it, there may be a mistake that slips through--let me know if you find something.  Also, if you have any great suggestions, let me know.  Please give me your email through my website and I will send you updates, as well as new music as it becomes available. ​

You can also like my pages on Facebook, ChristineMonsonMusic.org and WeSingofChrist.org, or subscribe to the YTouTube Channels with the same names.  Please share links to this music from these two websites, these Facebook pages, and from Youtube on your social media pages so we can share this music, and the spirit and truths in it, with as many as possible.
These downloads give permission to you to make copies for you and any group you are a part of.  However, as a courtesy, and to assist me, if others you know want to perform this at another time and place, with another group, please have them download this themselves.  I also don't own the inspiration you might receive.  You can modify it as you need.  However, I would love to know when and how you use it!  Send those stories to me.  It keeps me going! 
These small things you can do will greatly assist me in this ongoing project of writing and recording this music and making it available for you and everyone else.   
You can listen to and download these songs and sheet music either here at this website, or at freeldssheetmusic.org.  In the future, much of this music will also be streamed and shared on Youtube with video. 
Thank you!  
Christine